has come, to hand all the keys to client.
This house is yours, D-san and F-san, though some exterior works are left.
It does't seem real yet...
I thought this project would never end.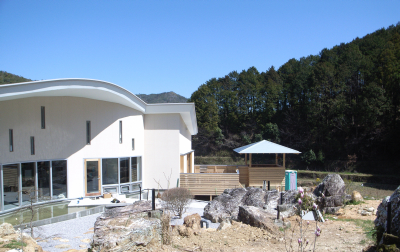 Here and there and over there.
Now, many kind of feeling for distance composed by achitecture
and nature and so on make the scene so colorful and rich.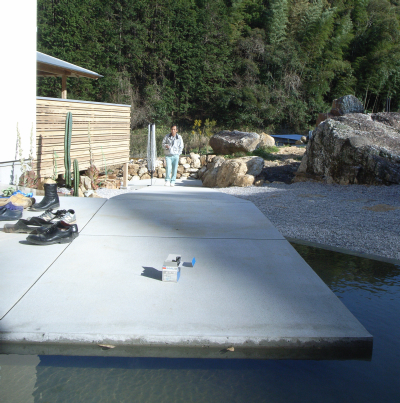 Yamamoto-san, an electrical engineer, is approaching on wheelchair-way.
Because of his very very mild and warm character, I oftenly
forgot to have time to make arrangement with him, sometimes I turned back to the site from on the way back to Tokushima...
Ichikawa-san's right hand...or more?...Osaki-san, wearing green shirt.
She carries anything, even if it was very heavy for men, tidies and cleans up the site around. Always appreciates great pains Ichikawa- san has taken, supports him standing behind. Her contribution to this house...it's quite immeasurable.
Apple green colored sliding door from balcony of guestroom-2.
D-san has been insisting to use this color on many parts of this house, he never gave up, and...at last...
Under part of waving roof is also pale mint green.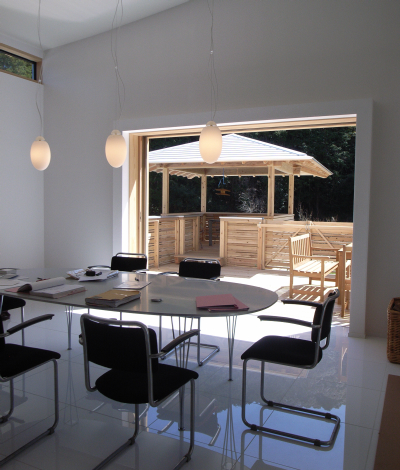 It looks much better with their furnitures.
Tables and chairs seem "Modern" but those are rather antique.
Such like Cool mood with inorganic materials never appear on uchino architects's work without input by someone.
"Floor heating? of course!"
In line with such a thought, using wood for floor doesn't make sence. They don't sit on the floor, they don't lie on the floor, they use couch and chair and bed. Choosing unorganic materials is, in this case... yes, correct.
But outside...it still smells like uchino architects's design. ;->
Tere is an old pendulum clock came from Holland with them.
So, where ?
It has been ticking over centuries.
They bought perfectly maintained one at special shop of this kind.
mmm...dinning room? sittinng room?
Oh! I see!!
It was a place for D-san's chair to watch around like cockpit in designing period, but we found it should be "just a space". Behind it, there is one symbolical concrete column.
It was a prompt decision.
We asked Mitani-san who has been visit this site daily to complete garden works.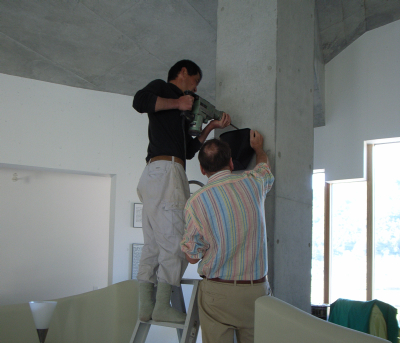 He is digging a hole for a hanging bolt.
"When I was a child, in a church, big pendulum was ticking always.
Sorrounded by this sound, I felt revealed.
We have been admired like "nice sound" "Mmmm..."
...then...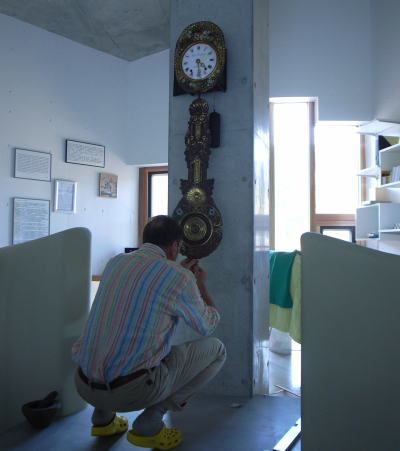 What?
Suddenly it stopped ticking.
D-san looks confused.
There are some gears and shafts inside. It's so simple.
"We have to wait untill it recalls how to tick by itself."
sitting room
Positions of furnitures are going to be settled down.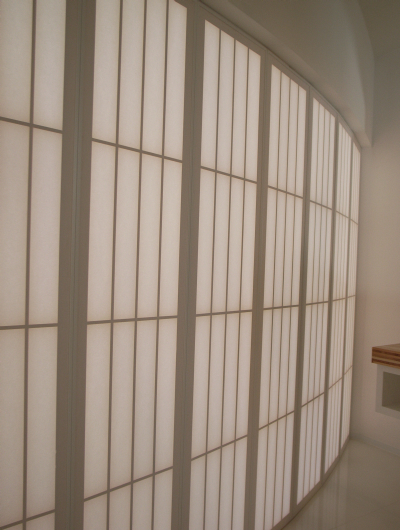 "Curved shoji screen (both sided)"between dressing room and inner valcony.
It was designed with glass blocks at first. It was changed into shoji screen like this because "cost control" was needed at the moment of contract with C.C.
Now I feel it's much more suitable to be here to explain "why" this house is situated in Japan.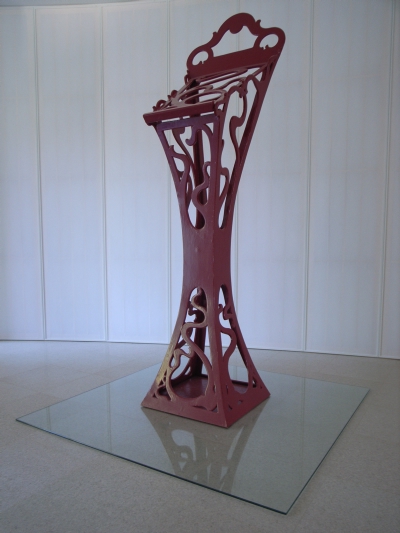 I tryed to put a glass plate under a "pulpit" in front of the screen. They bought this glass plate for laying under a stove but no use anymore.
"It looks like art-museum-technique"
D-san looks bored...
This pulpit is a "fake" of traditional designed one.
I was so surprised when I tryed to lift it. It's made of sheets of plywood.
Zebra striped couch on this side of the pendulum (photo above)
is "Biedermeier" one.
People living in a certain kind of "class", not real rich, petit bourgeois.
D-san says "It's their taste. Made of imitative materials, ugly, exaggeratly designed furnitures and surroundings. "
These funny things like "fake""ugly" were turned to be another objects by D-san, who always says "Too much makes sense sometime".
I, as well, don't be admired of "just a beatiful, smooth, modern something", tend to put some friction, spots on beautiful things. I really nod my agreement with D-san's thought.
Then, answers after struggling were all "agreements", not compromises as solutions. I never felt such arrangement talk as a stress, thinking back on what happened on the way.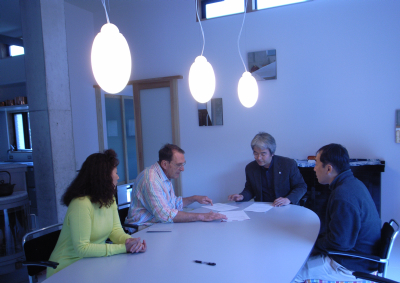 Time to hand keys.
D-san gave a final speech expressing their gratitude mind.
"Certain it".
Something they have been feeling all through construction period. It can't be counted by money. Something asks nothing in return. Those "certain it" completed this house, and it will never disapear. It remain the same as long as our life.
D-san's speech was full-filled by such a "thanks words".
There were so many crisis which could stop whole process. But D-san's speech had enough energy to blow everything away.
D-san couldn't continue to read sometime.
Ichikawa-san started to talk his ... certain it... quietly.
"we have been consentrated to do what's should be done".
Tears trickled down his cheeks.
Everybody know it.Then all the workers and Ms. Osaki could follow you, Ichikawa-san. Me too.
Am I too cool? No tear spilled out.
These three years seems just a second compare to "Sakawa life" start today.
Well, here you are.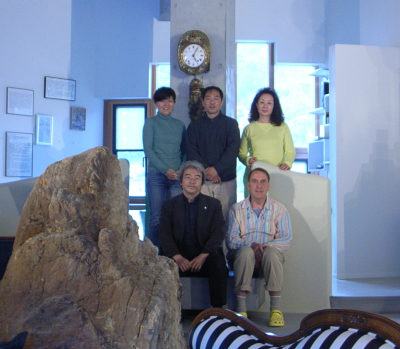 memorial photo
"heart rock"
looks smaller than before?
FIXED POINT OBSERVATION No.40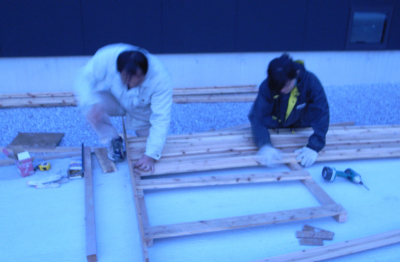 I could not leave LANDHUIS a while, talk with Ichikawa-san and Osaki-san observing them making fense.