Nakayama-san (Boss of carpenter group specialised about Temple and Shrine) and No.1 carpenter of "modern house" category in his company, Takai-san appeared.
To set "SHISHIODOSHI".
Collected mountain-water and overflow from neighbor rice field in the "South pond", is led by bamboo gutter into the "Reflection pond" through "SHISHIODOSHI".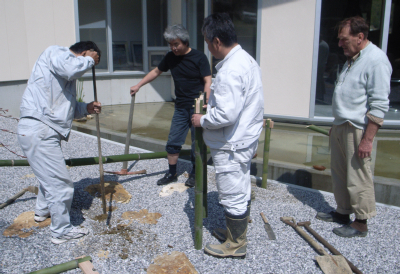 All together now...
"Ready?"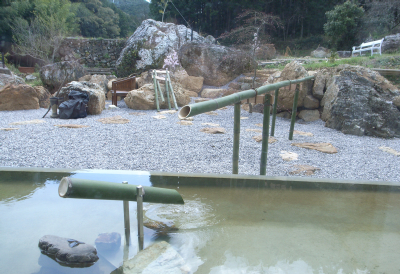 Bottom part of "SHISHIODOSHI" is filled by water little by little...and head part start to nod...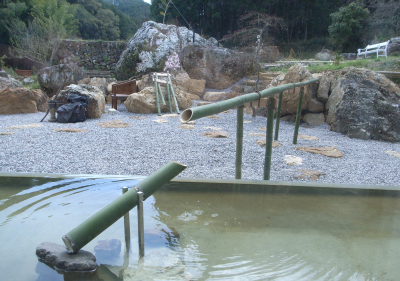 "cu cko--------nn!!!" 
Stainless made holder is made by president of Search factory.
In -Takai-san's work- gazebo. + Sitting on a couch.
Look like brothers.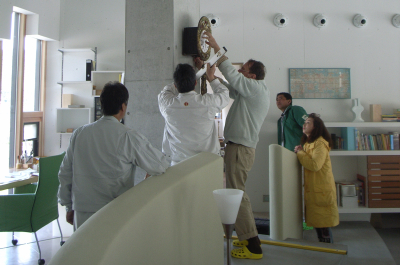 Checking its horiozontality, analizing the reason (why it doesn't work), they commented their opinion as craftman.
Light a chandelier.
OTAFUKU mask looked so big at another place before, but now ...
"small!"
" Yes, everything looks smaller here..." F-san says.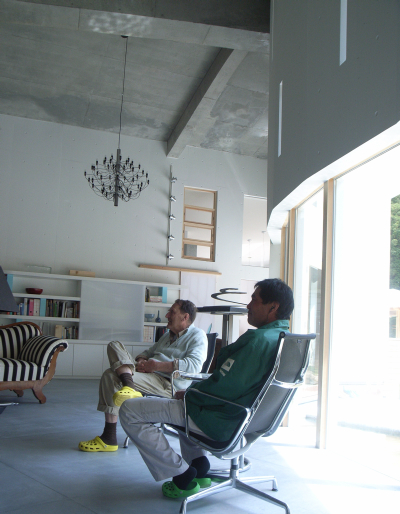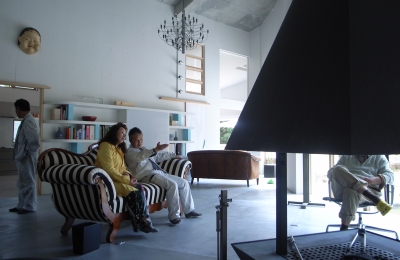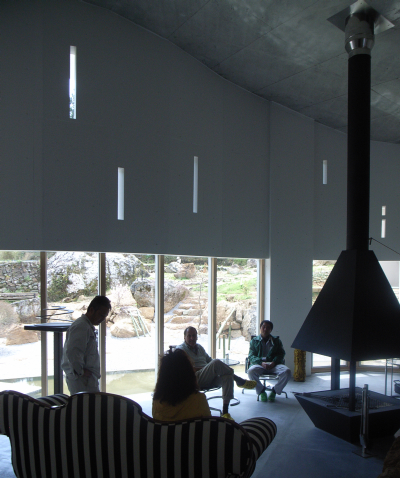 Relax time.
Wearing green jacket is Mitani-san at exterior work. He is now closing last stage of whole construction period.
Unbelievably calm mood. I even miss that tense mood during we were struggling with this house...
Put a name plate on those railroad sleepers erected last time.
D-san prepared brass alphabets of their name....then....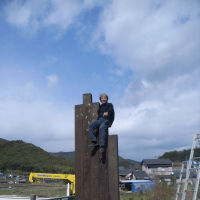 Scatter them at random.
D-san took my ladder away...with delightful smile...
"Random" is O.K. I want some theme behind it...
"SAKURA!" D-san proposed.
Flurry of falling cherry blossoms.
All right.
Like falling from leftside upper part to rightside lower part...
Wow!
A line of weeping peach trees in front of "North pond".
STARCK COUCH in between looks comfortable.
FIXED POINT OBSERVATION No.41