sitting room.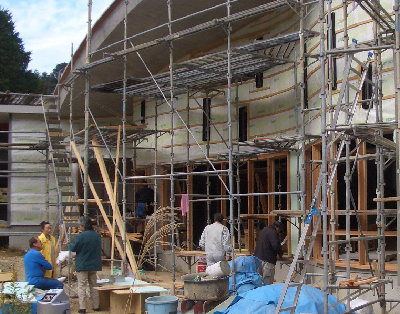 D-san and his spouse F-san and me are discussing
about it.
D-san wears blue, F-san yellow, and me green...
Yes, I'm going to mix them into one colour, nice!
Agaist D-san's argument "pink",
I proposed the colour system which should controll
this space, according to
"four symbols"
thought.
This is the chinese thought indicates aspects and
surroundings of flourish capital city.
Adopting conditions of the great city like Chang'an
/into each walls and parts of this sitting room
and surroundings outside ...
EAST : Azure Dragon=blue=flowing water
/mountain stream, kitchen
WEST : White Tiger=white=big street
/road, inner balcony(corridor)
SOUTH: Vermilion Bird=red=lake,sunkun place
/reflection pond,garden
NORTH: Black Tortoise=green=hill
/mountains adn hills
Yeah? Exactly this room is corresponding to that rule!
so...
I explained the story using this drawing.
Round wall in the left on this drawing, D-san insist
"pink", but it must be coloured white because this
wall is a symbol of "White Tiger".
Another round wall above, must be painted green.
"Hummmm.... " after deep thinking a while,
"It is a kind of dicision whether we accept your
definition or not."
"What do you think?" D-san asks F-san.
Thankfully she agreed at once.
"Alright Uchino-san, we follow you."
Bookends of the shelves on the right, would be
coloured light blue.
Conclusion;
Two walls this side=green.
Bigger one over them=white.