wooden wings...
The president head of the temples and shrines carpenter group Bansho-NAKAYAMA, NAKAYAMA-san appears!!
・・・Oh?!
Trade mark of Bansho NAKAYAMA, not only on his helmet,
but also on his back!
I designed that mark when they decided to buy new helmets last year. Using shapes of kanji letters of NAKA and YAMA, we made it like SANKOSHO(Buddhist altar fittings)is holding a red fireball.
"My pupils asked me to put it on the back of working jackets so strongly..." He says. But it looks your own taste, NAKAYAMA-san?
What?
something flys across our sight・・・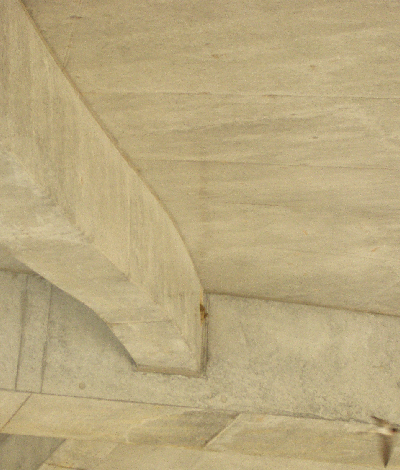 Ah-!!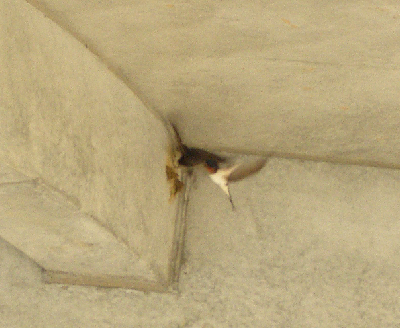 Swallows!
Last time we saw them flying around LANHUIS, at last
they started to build a nest under ceiling.
They found here perfect for their new family.
No worry about rain, feel nice and cold...
Mr.D begins to talk.
"To say with fantasy,
" I 'm so happy about this.
I feel like this house is honored. "
" But, talk with reality...
he goes,
"If the nest is an obstacle for working..."
"You will start to put windows..."
"But I can clean when they do dirty around."
"If there is no other way, take it away..."
Ichikawa-san (the man in charge of the project) says,
"Mm---no--- problem"
"We will build scaffoldings when we start finishing of ceiling, it'll be easy to clean that after they leave.
Yeah, let's work under watching of swallow supervisers
for a while. Not bad ;-)
Curving wall is a space for couch. Original stove will be set in front of it. Niches on both side of wall is for firewoods. And THE HEART ROCK. Behind of big opening of concretewall is for rooms of the night wing. SHOJI paper screen of a dressing room will be alight like BONBORI.
Holes in line are nozzles of air-conditioner.
Digged line on the right of the wall is a stealing for furnitures to fit. The day wing rooms will be build behind the wall.
FIXED POINT OBSERVATION No.20 Good day!