Between Day wing (dining, kitchen...) and
Night wing (bedroom, bath...),
Sitting room is made of reinforced concrete.
Walls, colmuns, and ofcourse its roof.
To fix sizes of iron bars and casting board,
we had to calculate all the height points.
It seemed so difficult to solve, how to support casting,
how to form curved surface by what, how to fill concrete in ....
But now, small soft simple paper model brought us a light.
Models, tells us a lot always!!
I thought "yeah it's so natural..." at the site.
Motor bike looks so nice in this site!!
He is one of workers about basement.
FIXED POINT OBSERVATION No.9
....an addition....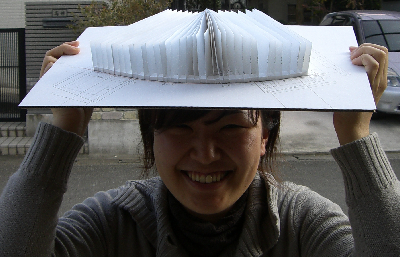 Newcomer of our office since last fall, Yossii!